Note Reading App
Learn to Read Music with Note Rush
Note Rush boosts your note reading speed and accuracy, building a strong mental model of where each written note is on your instrument. Now even better with Note Rush: 2nd Edition! What's New in 2nd Edition?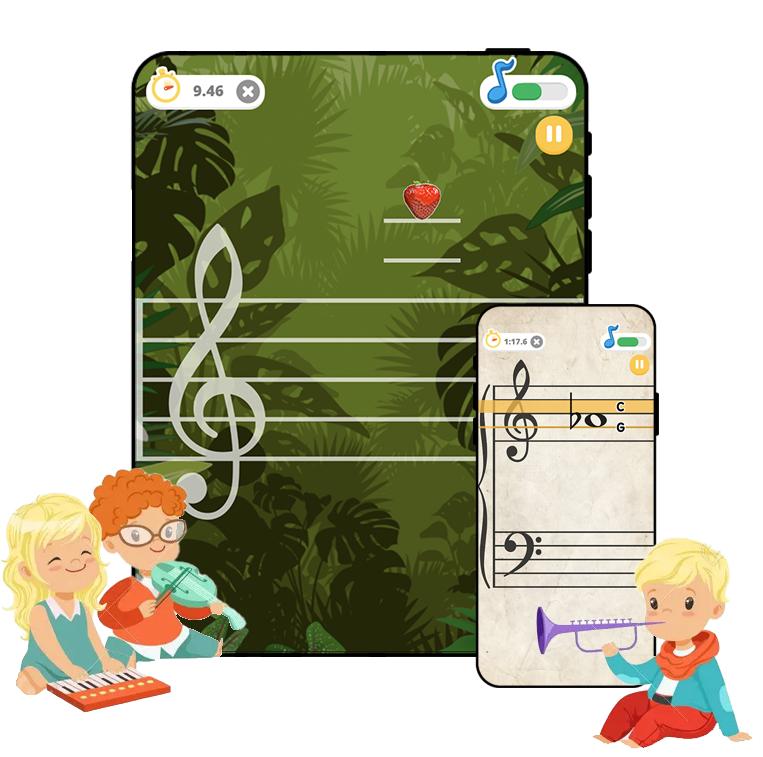 What makes Note Rush different?
Play On Your Instrument
Note reading is best learnt in the context of how you play each note - on your acoustic or MIDI instrument.
Designed for Teachers
...and not as a replacement for them! Create fully customizable note sets and easily send them home to students.
Fun Themes
Engage with fun themes that don't get in the way of learning, or opt for traditional notation.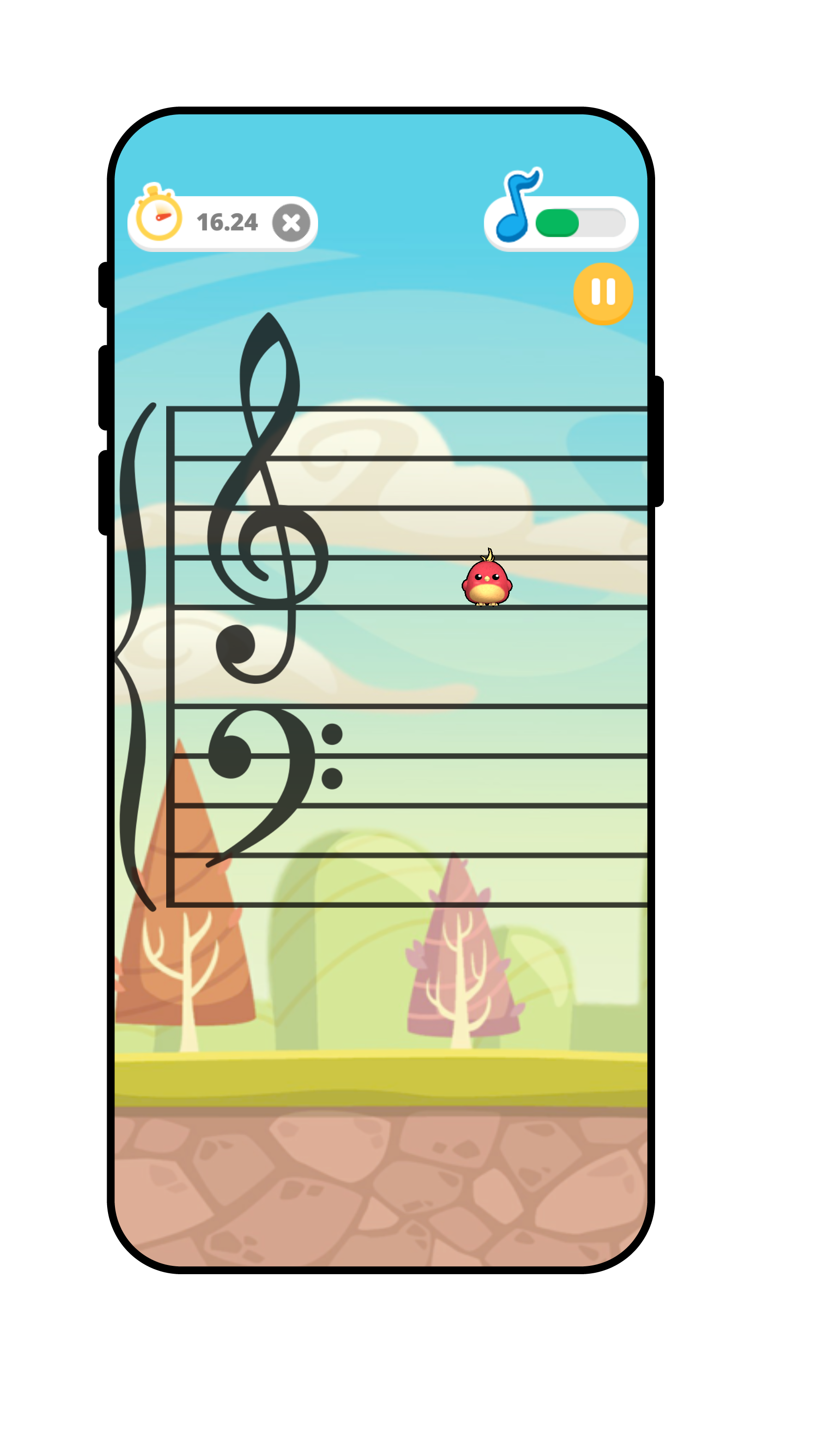 How it Works
Note Rush is like a virtual flash card deck for all ages that listens to you play each note, giving instant feedback and awarding stars based on speed and accuracy.
Race against the clock to improve your performance or hide the timer to gently engage those just starting out with the staff.
Includes built-in levels for piano and a range of other instruments as well as custom level design.
Landmarks: The best way to learn your notes
Note Rush fits with all teaching methods, whether you favor a purely intervallic approach or use traditional mnemonics! We promote learning key landmark notes then reading adjacent notes intervallically for the best results in learning to read piano notation.
Note Rush features a unique landmarks-based hints system (optional) that highlights nearby landmark notes to read intervallically from. Over time students naturally move from reliance on landmarks to a more intrinsic staff-to-keyboard association.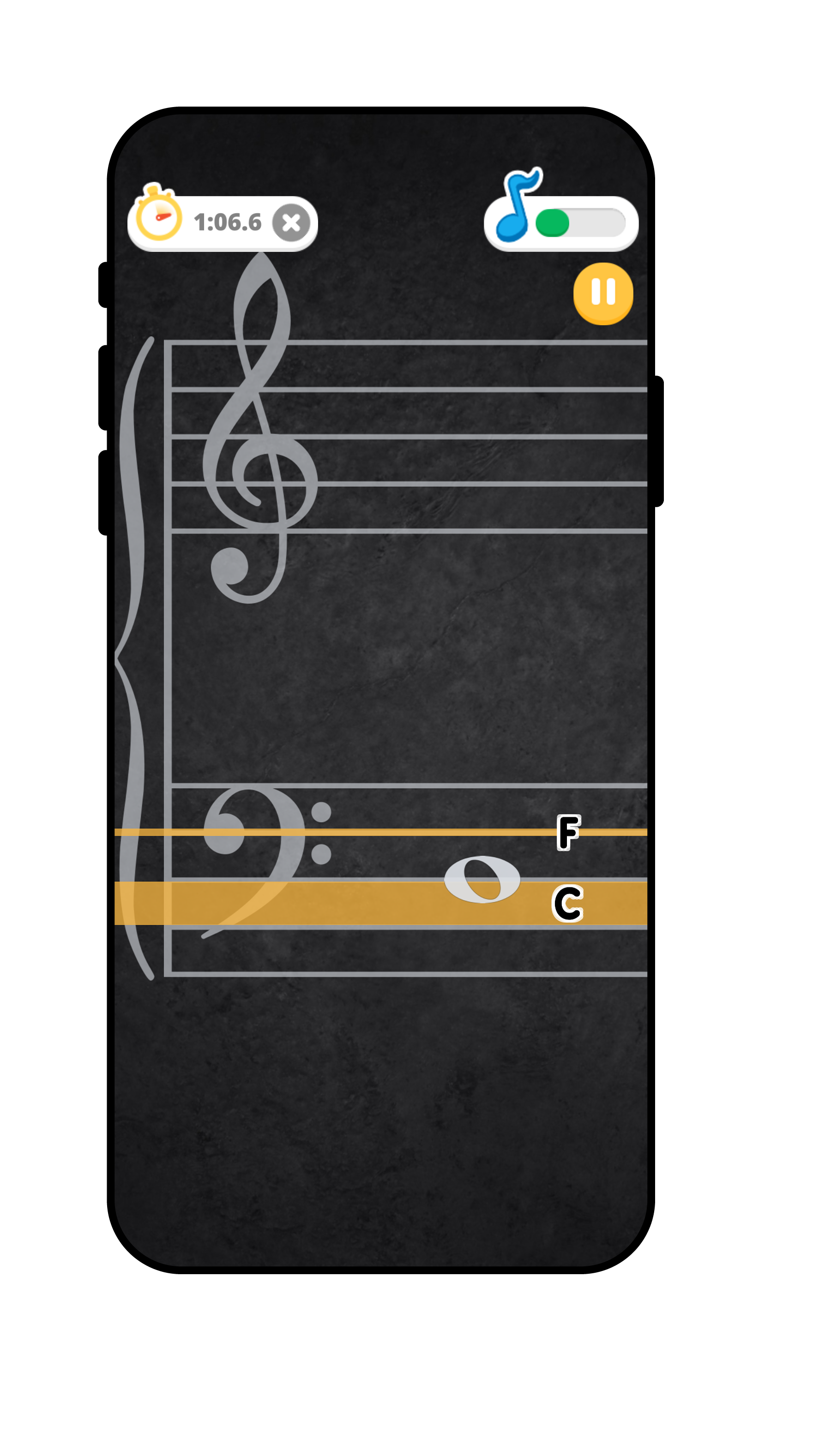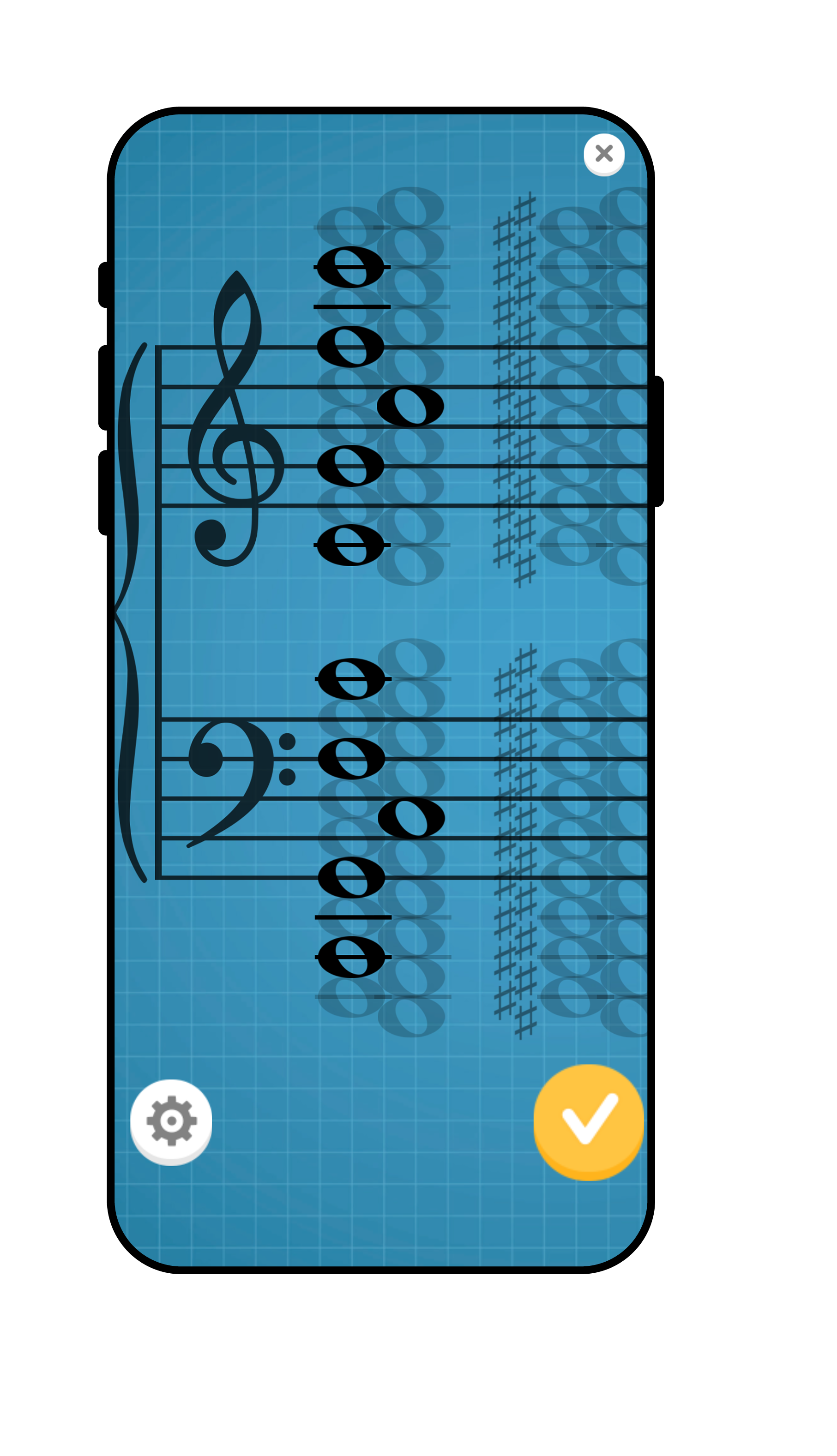 Preset and Custom Levels
Use preset note ranges or create your own set of levels to suit your teaching style. Create a personalized level to target a particular student's needs.
Individual Note Selections

Sharps and Flats

Treble, Bass or Grand Staff (alto and tenor coming soon)

Up to Six Ledger Lines

Send using App Links or QR Codes
Frequently asked questions
Yes! Note Rush automatically adjusts to whatever tuning your instrument uses by listening to the precise pitch of the first note played every game, and auto-transposing accordingly.
This means it will automatically calibrate to instruments that are off concert pitch by a few semitones, or a whole octave transposed as is the case with guitar.
As long as it is more or less in tune with itself, Note Rush should be able to automatically adapt to it. It does this by listening to the precise pitch of the first note played every game, and auto-transposing accordingly.
Note Rush is designed to work with a wide variety of instruments, but may not work in all cases. Instruments that are pitched within an octave or so of concert-pitch and that have a clear tone should generally work.
Note Rush has been tested with and has built-in levels for the following instruments:
Piano + Keyboard
Guitar
Violin
Flute
Trombone
(more coming soon!)
If your instrument isn't listed above, you can still make custom levels yourself with appropriate note selections for your instrument.
Yes! Note Rush now supports MIDI instruments on both iOS and Android! A wired connection is currently required but Bluetooth MIDI support should be coming soon.
To connect your MIDI-enabled keyboard you will need the right adapters and cables to suit your devices. Modern keyboards typically have a USB HOST (square USB-B) connector which allows a USB AB cable to be plugged in, the same cable often used with printers. This is generally more reliable than the classic circular MIDI IN/OUT connectors, which require a separate USB-MIDI adapter.
For Android devices, you will also need an OTG ('On The Go') cable for whatever kind of data/charging port your device has (typically USB-C or micro-USB) which then allows connection of the USB-A end of whichever cable you are connecting to your keyboard with (per above).
For iPhone/iPad, you will similarly need a lightning-to-USB (or USB-C to USB) adapter. Apple call these 'Camera Connection Kits' and I recommend using a genuine Apple adapter for best results.
Stars are earned based on your average time per note (including any penalty time). To earn:
1 Star: Complete the level in any time.
2 Stars: 3.5s per note or better.
3 Stars: 2.5s per note or better.
4 Stars: 1.5s per note or better.
5 Stars: 1s per note or better.
Earn 1-3 stars and they will be shown out of a possible three. The 4th and 5th stars are considered bonus extension stars so are shown only if earned.
Note that this setup means you get 3 stars for completing Piano-Classic Level 3 (Whole Staff) in one minute or less, which many piano teachers use as the requirement for entering the 'One Minute Club'.
Teachers Love Note Rush
Real reviews from real music teachers.
Note Rush has quickly become my favorite app for piano teaching. ... Tell your students to buy this app instead of a box of flashcards.
Joy Morin
colorinmypiano.com
Note Rush is a motivating app that engages students to improve quickly with their note reading skills. It is definitely one of my top favorites and will be used often!
Jennifer Foxx
musiceducatorresources.com
Note Rush is a great way to review notes for the One Minute Club.
Susan Paradis
susanparadis.com
A blockbuster hit with teachers and students... I especially like using it at group lessons.
Leila Viss
88pianokeys.me